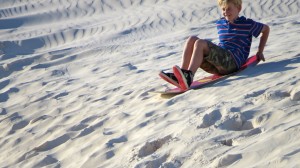 Approximately 100 km north of Perth, Australia, nestled in between Indian Ocean Drive and the Indian Ocean is the small quaint fishing and tourist town of Lancelin. This literally  'don't blink or you'll miss it' kind of place, is home to gigantic beautiful white sands dunes. A place where you can play and enjoy in a way you may have never thought of before. Whether it be 4 wheel driving or sandboarding, exciting adventures await in this neat little town. Lancelin is one of those hidden gems on the west coast of Australia that you don't want to miss.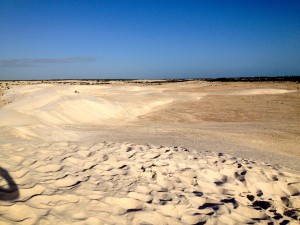 We had decided to rent a car for the day and go north of Perth. Our main goal was to go see the Pinnacles in Nambung National Park but had a couple of other stops in mind that day. We had already toured Yanchep National Park where we saw koalas up close in their natural environment as well as wild kangaroos; a must see for kids and any adult that wants that 'classic taste' of Australia. I had heard about the white sand dunes and the possibility of going sandboarding and this intrigued me. How cool would it be to sail down the gorgeous white sand in the warm spring sunshine. Shorts and bare feet a must?
One of the things I really feel is important when traveling is to vary the kinds of experiences you have. Not only is it great to see the tourist spots, the museums and well known sites, but it is very cool to experience it in an adventuresome way. An active way that will provide you with an experience that you will never forget. Besides especially with kids, you need to interject these kinds of activities into your touring. Plus honestly the adults need it to.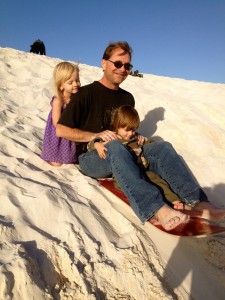 We were on our way back from the Pinnacles, about 45 minutes north of Lancelin. We had planned to stop in on our way back and check out the sand dunes. I was getting very excited about the prospect of these sand dunes and going sandboarding! My sister had been there before and said it was quite cool. And I knew Matthew and D'Wayne would really enjoy it.
We had timed it just right, as it was about 4 in the afternoon, so we still had a couple of hours of sunlight left. We stopped at the local gas station and inquired about the dunes and renting sandboards. Turned out it was super cheap! Only $20 a board for 2 hours, with a $100 deposit, which of course we got back when we returned the boards.
We rented 2 boards and were off. Just a short drive through town (about 2 minutes) and a turn to the left we came upon these magnificient sand dunes. Massive is exactly what they were and going on for miles and miles. Some of them looked pretty steep as well! Even steeper then some of the ski hills I have been down.
The boards themselves are actually just snowboards with no bindings attached to them (You can rent the ones with the bindings on them if you want). You waxed them with a light coating of wax (provided by the rental place), and then up the big hill you went to slide down.
The sand dune itself was fairly steep and a good climb. Matthew took off like a shot and was up the hill in no time, zooming down. His eyes alight and sparkling. I treked off with Chloe to go down. It was a steady walk up but we made it to the top no problem. It was when I looked down that I had to catch my breath. Yes there was stunning view of the sun shining over the ocean, but it was not that that had me with a lack of breath. It was a lot steeper than I thought it was and I was actually a little apprehensive about going down.
I knew I couldn't disappoint Chloe who was very excited to go down. I took a breath and sat on the board, putting Chloe in front of me. I pushed the board and tried to get us going down the dune, but was having a heck of a time. Because of the weight of both of us, and not having done this before, we were a little stuck in the sand at the top. I called for back up
D'Wayne came up the hill with Luke and gave it a go. Of course he got them going no problem, so I quickly nominated him to go with the kids going down with each one at a time. I watched and took pictures and video for a while, enjoying the fabulous view of the sun setting over the ocean and watching all the kids go flying down the hill. Screams delight carrying over the hill.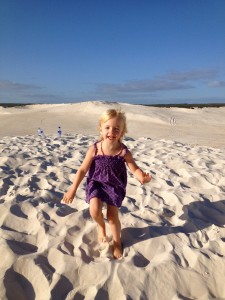 Up and down, up and down, over and over they went, loving every minute of it. Eventually the kids ditched the boards altogether and started sliding down on their bums or stomachs, Matthew even rolling down the hill (that my friend is a brave young man). I eventually took my turn as well, first going down on the board by myself, then taking turns going with Luke and Chloe.
One thing we made sure Luke and Chloe did when they went down was to cross their legs in front of them. This was for safety as you could get going pretty fast and it's easy for a leg to get caught and bent behind you (or in some other position you would prefer not to have it in).
We crashed a few times, I crashed by myself. Yet it was all a lot of fun. And it was the most perfect timing, zooming down the dunes as the sun was setting over the ocean.
After about an hour we were done. Not only had we gone about 100 times, we were tired and our legs were burning out from climbing the dune over and over. We gathered our things, put on our shoes and headed back to the rental shop to return the boards, everyone charged with excitement. It was an absolutely fabulous experience! It was definitely one of the best parts of our trip to Australia. And the only reason I had even inquired about it was because I had read in one of the tours to the Pinnacles that they stopped somewhere to go sandboarding.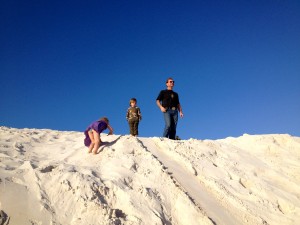 We finished our evening ordering fish and chips for dinner to eat on our ride home. Happy and satisfied we drove back to Perth, ready to share our adventures and pictures, with those who would listen to us babble on about our fabulous day and the adventure and experience that sandboarding provided. An experience not to miss!