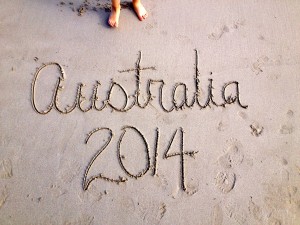 I love Australia! Ever since I was a little girl I have been fascinated with the Land Down Under. Koalas, the Opera House, and the Harbour Bridge, all icons of this beautiful country. I really wanted to go there and explore, see if all the magic and mystery of this country I had built up, was real. Was it all that it was cracked up to be?
I wanted to go so badly that even though I was deathly afraid of snakes, of which the top 20 most poisonous exist in Australia, and greatly concerned about crocodiles; these things did not deter me – I was going. And now I have had the great privilege of going twice to this fabulous country. Truly unique in all it's flora and fauna, animal species and human species too
The first time we went was back in 2007, when my oldest son was 4. We traveled for 3 months and explored a good part of the country. I actually never thought that I would go back. Then when my sister announced that she was going with her family to live there for a year, I knew that I could not pass up this second opportunity. Now with 2 more children, I made my plans to go. Would we travel to places we had been before? or would we see some of the places I had missed and wanted to go to? So I promptly turned to my Fodor's Australia book, taking the newest version out of the library. (This is something I highly recommend wherever you travel, get a book on the area before you go and do some research on what there is to see and do. Always find the newest version as it will have the most up to date information on prices, etc. and it will save you a lot of time when you're there; as well as give you a good framework or route for your travels.)
Though we were only going for 3 and a half weeks this time, we decided to do a bit of both. Enjoying the places I had been before, remembering and doing new things in those areas.  Places felt familiar and comfortable, which got me excited and nostalgic at the same time.
This is how I felt when we first arrived in Sydney, our first stop on our Aussie adventure. It was neat to recognize areas and see how they may have changed, to feel oriented in a place I hadn't been for 7 years, and to then expand upon what I knew, as well as explore new places and with new people.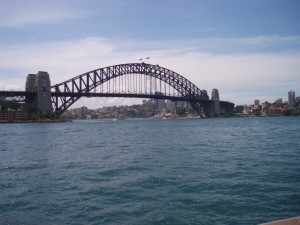 One of the unique things about our stay in Sydney this time around was that we stayed with an old friend of mine that I had met in the UK back when I was fresh out of university. Not only did we get to catch up, but staying with a local is always a rich experience as they are able to give you insight into Sydney life that you might not find otherwise. Dana was not only able to make recommendations on what to see and do, especially with the kids, but also able to orient us as to where we were and how to get to various places, whether it be the Sydney Harbour or the local Coles (grocery store) down the road.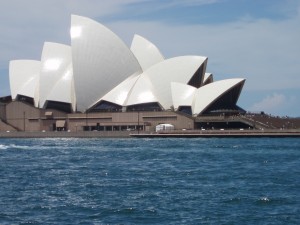 There is so much to do in Sydney, from a plethora of museums (lots of great museums for kids, such as the Powerhouse Museum and Australian National Maritime Museum) and beaches, to walks, parks (love the Chinese Garden of Friendship) and significant monuments.
Our first day there, was a beautiful winter day. The sun was shining, bright blue sky and about 20 degrees. Yes cold for Australians, but pleasant shorts weather for us. I was already loving Australia in winter.
We had decided that day we were going to take the kids to the Taronga Zoo, after a short walk down exploring the Sydney Harbour and waterfront where we had to catch the ferry at Circular Quay. According to Dana it was only about a 20 minute walk away.
It was a beautiful walk. Straight down from her place led us past Harry's Cafe, famous for their meat pies (and a place I wanted to go to since my last visit), to the waterfront paths, which wound along the water past Mrs. Macquarie's chair and the Botanical Gardens, before reaching the Sydney Opera House and Circular Quay.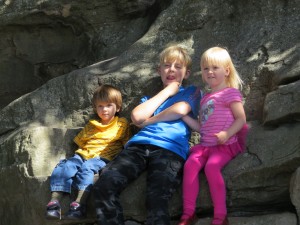 Mrs. Macquarie's Chair is one of my favorite places along the waterfront and was one of our first stops on our walk. Having been here before I knew that this was a place I wanted to stop and enjoy again. Mrs Macquarie's Chair, otherwise known as Lady Macquarie's Chair, provides one of the best viewpoints in Sydney. The historic chair was carved out of a rock ledge for Governor Lachlan Macquarie's wife, Elizabeth, as she was known to visit the area and sit enjoying the panoramic views of the harbour. It is neat for kids as they get to sit in this gigantic 'chair' or climb it, as the little ones tended more to do. As adults, we took all the photos we could and enjoyed the views in between ensuring the kids did not climb too high or fall down. Somehow we all got an experience and created our memories. For me, I was reflecting on my time there before and creating new ones (in amongst 'be carefuls' and 'climb over there')
For Luke and Chloe, they were just excited to be there and Matthew well he was doing his best to ponder the meaning of life, while trying to remember being there before.
As we continued on our way and rounded Mrs. Macquarie's Point, (directly east of the Opera House on the eastern edge of the Botanical Gardens), we were rewarded with the best and most famous view in Sydney, the Opera House and Harbour Bridge behind.
Also one of my favorites, and something I would not miss, no matter how short my time in Sydney. The Opera House with its 'billowing sails' and the Harbour Bridge behind is a beautiful majestic sight that amazes me and gives me goose bumps each time I see it. Personally I could have stopped there, or at least meandered down to the cafes by the Opera House and spent the rest of the afternoon there on the harbour. Enjoying a latte or a glass of wine, just soaking up the atmosphere. But we had promised the kids some animals, koalas and kangaroos to be specific (and honestly they would not sit leisurely while we enjoyed wine and lattes), so after a yummy lunch of fish and chips (which at this point during the trip was a novel idea – more on that later), we grabbed the ferry to the Taronga Zoo. Which that was an adventure in itself!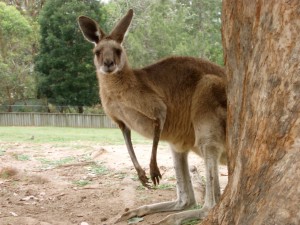 Tune in next week for our discoveries and advenures at the Taronga Zoo